We are looking for essay writers who will help promote the awareness of refugee rights in Korea. NANCEN wants to let the voice of refugees heard as they want to be heard in Korea society. We wish Koreans could come to understand that refugees are not to be feared or pitied. If you are interested in this project, please contact to refucenter@gmail.com
Sara
My name is Sara. I am 27 years old. I am from Pakistan. Live in South Korea. I moved to South Korea in 2012 with My Family, my dreams, a hope to have a secure future, a hope to have freedom, to start a new life in South Korea with all my family members and with all of my dreams. But never knew it will turn out to be the worst nightmare that I can never accomplish my dreams I never knew it's a beginning of struggle, hardships, trials, failure, stress and depression.
Sometimes what we think is not how things go that's what happened with me and my family. We faced hard time in our country because of our belief in our country but when we came to South Korea we realized that the life we left was indeed a nightmare but we didn't know that another nightmare a life full of trials full of hardships is waiting for us.
It all started the moment we applied for refugee status in South Korea we thought after applying for refugee status our life will get better we can start our life in a peaceful environment with religion freedom and freedom to live with rights to study and to work but we didn't know we are going to be slave of Korean government that after applying for refugee status we will not have right on our life to do any job, do study just obeying whatever they will say we have to do that we keep on hoping for a morning with happiness and a bright day which takes away all the darkness.
Life was getting harder and harder because all we had was right to stay in Korea but accept that no other rights our hands were bond. we cannot do anything accept waiting for the day when we will be free to work, study and live a stress free life every day was a challenge for me and my family because whenever we meet someone they ask us the same question all the time and we tried to answer their questions, Why we are In SouthKorea? Why me and my family moved here how we are living, who is supporting us to live here!! How we manage our financial circumstances, sometimes some people visit our house they even check our refrigerator and cabinets. they check our house it feels miserable like we made some crime that they are checking on us and asking so many questions!! Why? what we have done wrong?
We just came here to start our life again in South Korea with a hope to get justice and have freedom to live our life peaceful but why it was too hard to get legal status? why it is too hard to get a good job? why we cannot have same right as other Normal peoples? why we cannot do study? why it is too hard to be a part of Korean society? why It is hard for Korean government to accept me and my family as a normal citizen and why it is hard for them to grant us a legal right and status to live in South Korea and help us to live our life peacefully? why too hard to have a normal life in South Korea because we cannot speak same language!! because we don't look like Korean people? why all the time people treat us that we are like a garbage or useless and good for nothing? is it because we didn't get protection in our country and our life was in danger in our country? Are we not human? Is Applying for Refugee status is a crime?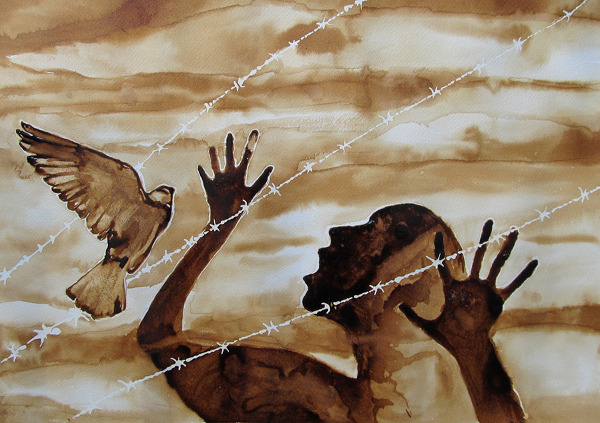 We expected justice from South that the Korean government always value human rights and they also support truth and justice. but why it took 5 long years for Korean government to decide that we can stay or not? why cannot Korean government see that how much my family and I we suffered in last 5 years all we had was just suffering no joy no happy moment no holidays as all the girls at my age plan their future and dream to do what they like, but in my case all I have is depression mentally stress all I think about my family my brothers family and my legal status and rights to have a normal life I don't even know how can I show my heart to Korean government that we are tired of dying daily with a fear that we never know when Korean government will ask us to leave.
In 2018 my father my mother and I we three got humanitarian visa we didn't get refugee status but I have hope that one day Korean government will surely support me and my family to live in South Korea with Religion freedom. and with other human rights I am still waiting day and night with my family that my brothers family which has My Brother My sister in Law my 3 nephews and 1 niece that they also get Refugee status since they are still waiting they have kids with them they are not allowed to work to do anything. it makes me more sad because kids doesn't know anything all they have just dreams in those small beautiful eyes in their small brains they just have their own beautiful world.
I hope that Korean people and government help us and accept us to live here in South Korea and I hope one day that bright sunny day will come which will end all our troubles our trials our struggle our fears and which will bring happiness, peace and freedom to live our life with all our dreams.
* Korean version : https://nancen.org/1950