The NANCEN office has been closed due to the outbreak of corona confirmed cases at Seoul Innovation Park, where NANCEN office is located. The office will be closed for several weeks due to the upgraded social distance level in Seoul city. So it's difficult to consult by face to face. Please do not visit the NANCEN office until the new notice comes out. We apologize that we can't take new consultation for a while. Please send us an e-mail for urgent contact. However, we have a lot of consultation emails, so please note that the reply may be delayed a lot. We apologize we didn't give you the proper and immediate response. We hope you have a warm end of the year.
Le bureau de NANCEN s'est fermé en raison de l'épidémie de cas confirmés par corona au Seoul Innovation Park, où se trouve le bureau de NANCEN. Le bureau sera fermé pendant plusieurs semaines en raison du niveau accru de distance sociale dans la ville de Séoul. Il est donc difficile de se consulter en personne. Veuillez ne pas vous rendre au bureau de NANCEN avant la publication du nouvel avis. Nous nous excusons de ne pas pouvoir prendre une nouvelle consultation pendant un certain temps. Veuillez nous envoyer un e-mail pour les cas urgents. Cependant, nous avons beaucoup de courriels de consultation, veuillez donc noter que la réponse peut être retardée. Nous nous excusons de ne pas vous avoir donné la réponse appropriée et immédiate. Nous vous souhaitons une agréable et joyeuse période des Fêtes.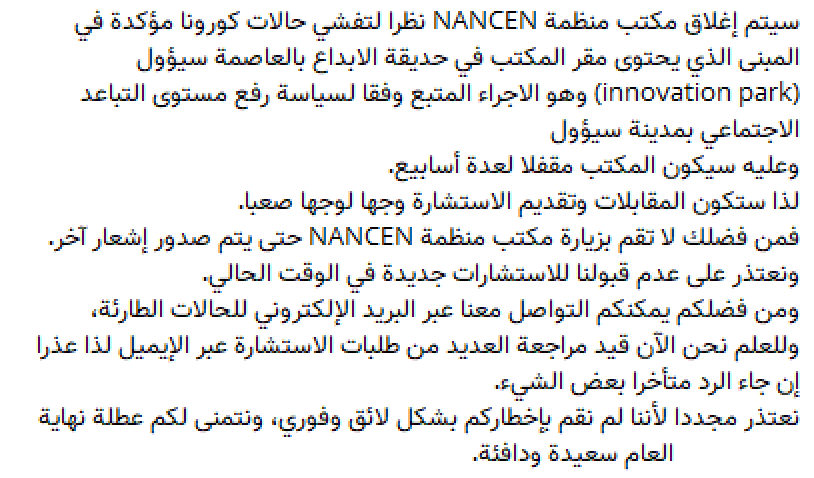 지난 주말 난민인권센터가 소재한 건물에서 코로나 확진자가 발생했습니다. 이에 당분간 사무실 폐쇄 조치로 대면 상담이 어려운 점 양해 부탁드리겠습니다. 긴급한 연락은 이메일로 부탁드리오나, 많은 이메일 문의로 인해 즉각적인 답변이 어려운 점 참고 부탁드리겠습니다. 안전을 위해 새로운 공지를 드리기 전까지 사무실 방문은 당분간 지양해주시기를 부탁드리겠습니다. 감사합니다.