Nancen meets Burundian refugee Deo
It was one busy Wednesday afternoon in January 2020 when Deo (pseudonym) visited Nancen at the office. He was in an emergency situation: the court trial for his refugee litigation was only a few days away, but he had not been able to find an attorney to represent his case. From the first day Deo prepared for his refugee application in South Korea, he had not been properly informed about the procedures. He thus depended on words from friends, which led him to some human rights organizations only to be referred to another. This is how he heard about Nancen and made his way to the office.
Would Deo finally be able to receive legal assistance on such short notice? We first began our journey with Deo by listening to his situation through counselling. Then, we searched for an attorney, but none was available right away. When we told him that the probability of finding an attorney for him was very low, he calmly replied, "Do I necessarily need an attorney? I can explain my case to the court by myself." As Nancen volunteer Nahyun and I learned from Country of Origin Information (COI) research on Burundi about the danger that awaits Deo in his home country, we decided to help him with his pro se refugee litigation.
14 Days of Struggle: Preparing Deo's Pro Se Litigation
At that point, we had 14 days left until the court trial. There are many things you need to do in order to be ready for the day. In a nutshell, your to-do list roughly includes (1) translating your evidential materials, (2) researching and writing Country of Origin Information (COI) reports, (3) formulating your testimony and preparatory pleadings with strong support and reference from the COI report, and (4) arranging them in one presentable document after you have checked the consistency of what you have written and submitting the final product to the court. As Nahyun and I had no prior experience with refugee litigation, we felt quite burdened by the task ahead of us and the time limit. It was with the guidance and help from Nancen staffs that we were able to proceed with the to-do list one step at a time. Meanwhile, the complexity of the litigation preparation made me think of how it can be unfair for refugees to proceed all by themselves since most of them have little knowledge in the area as is the case with most people with no legal background. In addition, writing about your own testimony in an articulate manner can be extremely difficult, especially when those experiences are traumatizing. Such revelation made it evident why it is practically impossible to submit a strong, convincing refugee application and be accepted as a refugee.
My biggest challenge while helping Deo prepare his litigation was to find proof for his testimony. The Refugee Convention defines a refugee as a person who has a well-founded fear of being persecuted (this is one of the several criteria; please refer to the Convention for the comprehensive definition of a refugee) Therefore, a refugee's testimony needs to be validated via solid facts such as evidences, COI reports and the like. However, providing proof for a refugee's possibility of being persecuted is not a simple task. In Deo's case, he fears persecution as a young Burundian who does not support the current government of his home country. According to his testimony, a pro-government youth armed group named the Imbonerakure has been indiscriminately torturing and killing people who do not support the government since upheavals stroke the country in April 2015. In this specific case, "people who do not support the current government" also broadly refers to those youth who reside in regions known to be against the government, regardless of whether the person actually participates in anti-governmental activities or not. These young residents are perceived by the current Burundian government as potential enemies and threats because the government suspect that these individuals may join the rebels anytime. That is the main reason why the pro-government force, the Imbonerakure, interrogates and even murders these young residents. As with Deo he was not involved in any anti-governmental activities when he was in Burundi. However, he was living in Bujumbura, a city in Burundi considered to be the most anti-governmental. Therefore, since the 2015 Burundian unrest, the Imbonerakure invaded Deo's house three times and interrogated him. On the third interrogation, they threatened Deo that his life will be at great risk on their next visit. That's when Deo decided to flee his home country.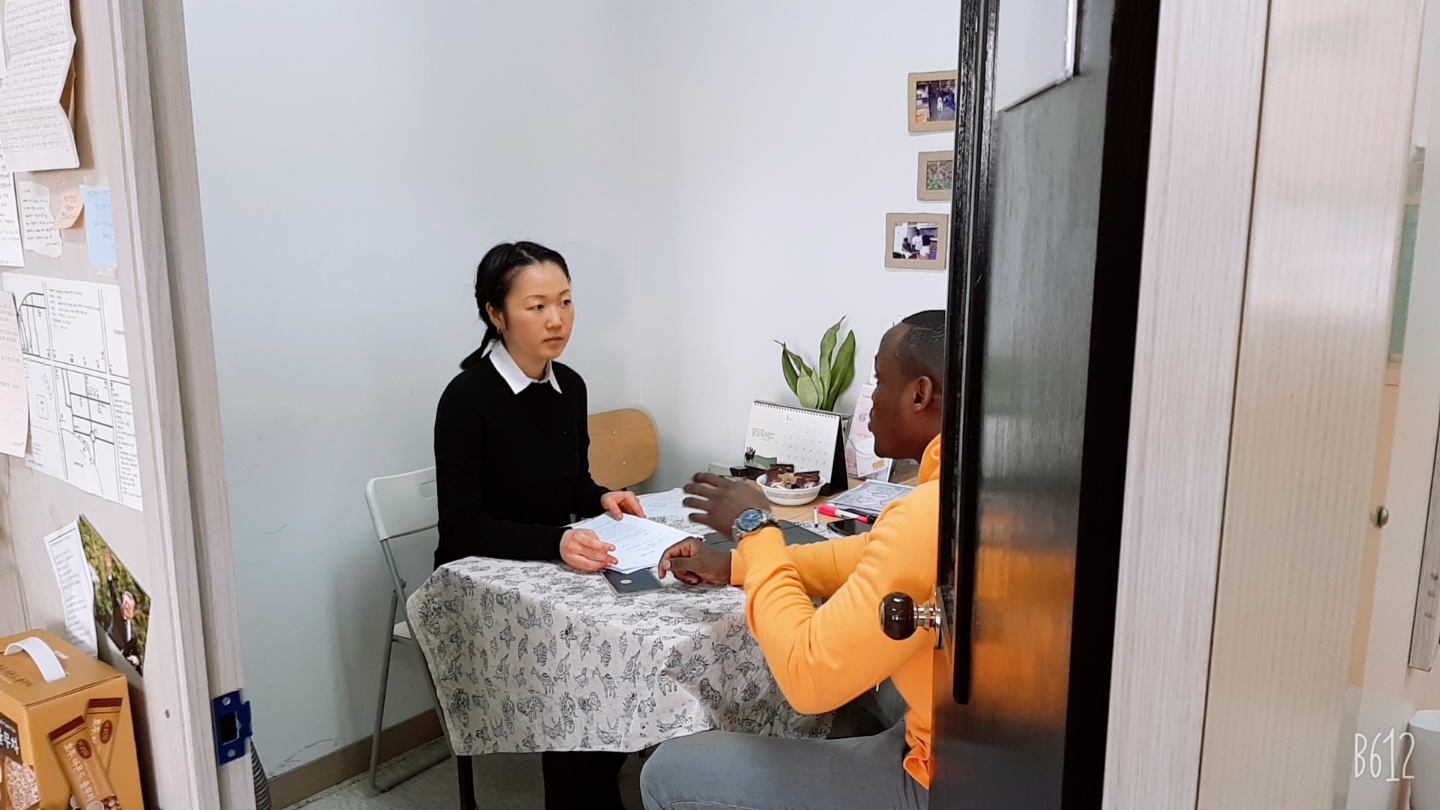 Through our COI research on Burundi, Nahyun and I discovered that Deo's fear of being persecuted as a youth resident of a anti-governmental region actually corresponds to the "well-founded fear" stated in the Refugee Convention. Numerous international human rights reports confirm the acts of persecution done by the Imbonerakure and advocates for the international protection towards those in relevant danger. However, Deo has been denied refugee status in South Korea for the reason of not having a "well-founded fear." The Explanation for Refugee Status Denial that Deo received from the immigration office concluded that he is not a conventional refugee because he is not a target for a grave persecution based on the fact that he had only received verbal threats in his home country and he had never played a leading role in any anti-governmental activity. Such vague explanation is not satisfactory enough to help the refugee in concern accept the fact that he or she was denied for a valid reason. It has been proven from various international reports on the human rights conditions in Burundi that those targeted for persecution by the government and the Imbonerakure are not only those who take important roles in anti-governmental activities, but also those youth (with or without records of engaging in political activities) who reside in regions considered anti-governmental. By presenting such explanation, the South Korean immigration office responsible for Deo's refugee status denial decision is seeking concrete evidence that proves the fact that Deo will definitely be persecuted once he returns to Burundi. But what evidence do they want exactly? Upon one counselling session with Deo at Nancen, he spoke about his frustration regarding the matter.
"How can I prove the fact that the Imbonerakure threatened my life for absurd reasons? It's not like there was a CCTV at home... Should I have had taken pictures of them with a camera at the very moment they were threatening me?"
How could we prove Deo's fear of persecution with concrete facts? We had no idea. All we could do was provide sufficient explanations and factual basis (as part of the preparatory pleadings) for his evidential materials that he submitted by connecting each of them with extracts from authoritative international human rights reports. For the rest, we hoped for the best.
The 14 days spent with Deo was also the coldest days in South Korea during this winter. Everytime he visited Nancen to work with us, he had to pierce the cold and travel between Pyeongtaek, where he lives and work, and Nancen's office. Although he had to spend long hours in the public transportation, I could notice that his face got brighter and brighter with time. One day, he told me that the path that he first traveled with despair and frustration gradually turned into a path of hope. When he read his testimony Nahyun and I formulated based on several counselling sessions we had with him, he said he felt for the first time as if somebody truly understood him. I felt most rewarded as a Nancen Volunteer when Deo told Nahyun and I that he found peace in his heart while being with us and that he feels truly happy regardless of what the court decision would turn out to be. While the outdoors was hit with the harsh cold wave, inside the Nancen office was filled with warmth radiated from the sense of hope that Deo shared with us.
Korean : https://nancen.org/2013
[SERIES] Pro Se Refugee Litigation – A Story of Hope 2 : https://nancen.org/2024
Written by: Sang Ah Lee